Geno Bernado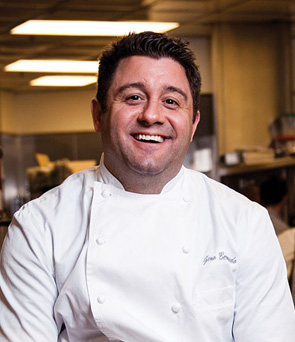 As a young boy in awe of his Nana's knack for dishing up traditional Italian cuisine at its finest, Chef Geno Bernardo had his earliest cooking lessons with the woman who would inspire his culinary style for many years to come. In Nana's kitchen, Geno learned the basic techniques of cooking; it's where Geno would build a foundation for his career in the food industry, and more importantly, it's the place in Geno's heart that fuels his persistent passion for food, day in and day out.
Geno was 16 when he landed his first restaurant job at the popular Italian New Jersey eatery, Massimo's. In 1996, he secured his spot in the industry by excelling to the top of his graduating class at the respected culinary academy, Johnson & Wales University in Providence, Rhode Island.
As a man who wasn't afraid to take risks, Geno ventured across the country and made sunny San Diego his new home. The newly appointed "beach bum" took on a few roles where he would practice and learn the craft of Japanese fare, including Sushi Chef at Sushi on the Rock and Sous Chef at Sally's on the Waterfront. The east coast seashore beckoned him back in the New Year of 2001 where Geno would experience his rite of passage as a first-time Executive Chef at Providence Oyster Bar and soon after, Providence Prime. His contributions to the steakhouse's brand concept, kitchen design and menu development made revenue sales soar, resulting in more than $1.5 million in annual food and beverage sales during Geno's tenure.
In the spring of 2004, Geno became part of the N9NE Group family, where he remained for nearly a decade and learned from the esteemed master chef, Michael Kornick. In April 2005, he moved to Las Vegas to run NOVÉ Italiano at Palms Casino Resort. When food service skyrocketed, Geno jumped in to help with the company's catering program that hosted on and off-site events. Within Geno's time with N9NE Group, he also helped open four venues including N9NE Steakhouse and ghostbar.
In the summer of 2014, Geno said adios to the States and traveled south to Cabo San Lucas, Mexico to take on the role of Executive Chef for El Dorado Golf & Beach Club where he oversaw seven restaurant concepts, managed an intimate staff of 20, built and executed all budgets and produced the cuisine for banquet parties as small as 25 and as grand as 1,000.
In 2015, Geno returned to Sin City as Executive Chef of Herringbone, the acclaimed ocean-to- table concept at ARIA Resort & Casino where he built upon the restaurant's existing "Fish Meats Field" philosophy, offering market-driven creations.
Teaming up with Craveable Hospitality Group, Geno collaborated with the team on the newest Craveable concept, Caputo Trattoria at Foxwoods Resort Casino. He assisted with menu development, calling on his knowledge of the culinary regions of Italy, to create a dining experience with classic dishes from the coasts to the mountains that highlight the unique and varying flavors of Italian cuisine.